These gifts for homesteaders are perfect for the old soul in your life! There are over 50 gifts you will want to keep for yourself!
This post contains affiliate links which means I make a small commission at no extra cost to you. See my full disclosure here.
Over the last decade, we have had our fair share of trying out new tools and items around our homestead. Good tools make a huge difference in how efficient a task is. With so many moving parts between gardening, homeschooling, homemaking, and running a few businesses, we have no time for inefficiency! Only the best items make the cut to get the job done faster.
If you've got a person interested in old fashioned skills or you are looking for some recommendations for yourself, this is your one stop shop! We have tried and used all of these items and recommend every. single. one. To make it easier to navigate, we have broken up the list into four categories:
Gifts for homesteaders categories
Gardening
Kitchen
Survival
Hunting
There are a variety of different price points as well, so depending on what your budget is, you should be able to find something that fits the bill!
Gardening gifts for homesteaders
Gardeners love this tool because the curved head plows though any soil. It makes weeding, so much easier than using a hoe or your hands. The tiny hand cultivator gets under the roots of the weed and pulls it out without a struggle. This tool is also made right here in the USA! Grab your CobraHead Original Weeder here.
These are the pruners Grey has on him at almost all times. The handles are extremely comfortable and the blades are hardened Swiss carbon steel. These pruners have a 1-inch cutting capacity, perfect for pruning trees, roses, and just about any plant that need pruning in your garden! Grab your Felco Pruners here.
This broad fork is one of the best! It is ALL STEEL and fully welded, which makes it almost indestructible! If you like the no-till gardening like us this is the tool you need. Made completely in the USA this broad fork will improve soil structure and get beds ready for planting. Grab your Meadow Creature's All Steel Broadfork here!
These leather work gloves are 100% split cow hide. Great for your toughest jobs around the homestead since they are puncture resistant. Having good gloves makes jobs easier and quicker. These are our go to gloves! Grab a pair of outdoor leather work gloves here.
This is the only pruning book you will need to make pruning simple! For more than half a century, Robert Sanford Martin's How to Prune Fruit Trees has been the go-to guide for pruners of all levels of expertise! Grab this book on how to prune fruit trees here.
Quick, at home results for Soil pH! Innovative and inexpensive soil test kit features an easy-to-use capsule system and patented color comparators. Soil pH preference list for over 450 plants included. Grab your test kit for soil pH here.
These luxury shears are used by gardeners all over Japan, and make a beautiful practical gift. These make trimming hedges and larger shrubs easy! Grab your okatsune hedge shears here.
Authors Lewis Hill and Leonard Perry provide everything you need to know to successfully grow delicious organic fruit at home, from choosing the best varieties for your area to planting, pruning, and harvesting a bountiful crop! With tips on cultivating strawberries, raspberries, grapes, pears, peaches, and more, this essential reference guide will inspire year after year of abundantly fruitful gardening. Grab your Fruit Gardener's Bible here.
This axe does a lot of work with every swing. Plus, it features a durable straight-grained American Hickory handle. Clear roads and trails, to build blinds, and even to chop down a fair sized tree. Grab your Cold Steel All-Purpose Axe with Hickory Handle here.
It is used for weeding, seeding, transferring bulbs, digging the perfect hole and cutting branches. These knives aren't only for gardeners. It is also a great knife for hunting, fishing and camping. Inch markers engraved on the blade ensure you can plant and seed at precisely the correct depth. The Nisaku blade is rust-proof and scratch resistant. Get your hori-hori weeding and digging knife here.
Kids love making biodegradable pots out of newspaper and watching seeds sprout! This little tool makes seed starting is easy when you make your own starter pots from paper scraps. Make your own 2 inch diameter starter pots from paper scraps using this wooden mold. Grab your newspaper pot maker here.
Use to seal wounds and grafts, helps repair damage caused by pruning, animals, insects, storms, and weed whackers. Get your wound pruning sealer and grafting compound here.
This legendary high-yield gardening method encourages wide rows, organic methods, raised beds, and deep soil. The Vegetable Gardener's Bible provides expert information and an inspiring roadmap for gardeners of all skill levels to enjoy abundant homegrown vegetables. Get the Vegetable Gardener's Bible Here.
This folding saw handles large limbs, small trunks and even many construction projects with no problem. A versatile blade for a number of jobs including pruning, trimming, branch cutting, hunting, game-processing or maintaining your lawn or garden. No matter the work you have to do, whether it be hard or delicate, this blade makes the perfect addition to your tool collection. Get your professional pocketbook folding saw here.
This is not an ordinary garden hoe! This tool cuts through weeds quickly and is built to last. High carbon steel Japanese weeder, sharp edge kept longer, quick easy work for all weeding and gardening. Get your Japanese Weeding Sickle here.
This shovel is constructed out of forged metal versus the standard pressed metal found at your local home improvement store. This shovel has increased strength because of it's excellent construction. It will serve you through your toughest jobs. Get your Forged Round Point Shovel here.
Made of 100 % natural slate, each of the garden marker stakes from Navaris is unique. The natural dark stone adds a rustic touch to your pots on the patio or balcony, or to your veggie garden or flower beds. The slate plant markers are weatherproof for use outside. Get your slate plant labels here.
This professional gardening tool set is Solid One-piece design, won't loosen, bend at the neck or break while digging Gardening is more fun with the right tools.Those Aluminum Hand tools kit Ideal for Ideal for a variety of tasks including digging, weeding, loosening soil, aerating, transplanting, and more. Snag these heavy duty gardening tools here.
This 6.5 inch wide tempered steel garden hoe can do it all. Perfect for planting, easily busting open new ground or raking rocks or moving dirt around your plants. All three sides are precision sharpened so it makes easy work for you and in less time when digging or weeding. If you need one tool for gardening, THIS IS THE ONE TOOL! Get your Rougue Garden Hoe Tool here.
You can use a 14 pocket apron in any workplace, whether working in the garden, fishing on the river, or repairing tools. It is so versatile! If you are looking for the perfect garden apron check out this one here.
This beautiful metal rain gauge is clearly calibrated and easy to read on a durable 8.75″ tall glass tube. Perfect for the garden, and keeping track of rainfall for your garden journal! Get your cast iron spiral rain gauge here.
Kitchen gifts for Homesteaders
This is one of my most used kitchen items! This standing mixer stays on the counter at all times because it is used so frequently for bread, butter, or even whipped cream! This would make a lovely gift for the home cook in your life. If the kitchen aid mixer will be used frequently and for making dense bread doughs, I recommend the 600 stand mixer. This is the stand mixer that I have.
This is the pressure cooker we use in our kitchen! This makes the perfect gift for those people in your life interested in canning and other old fashioned skills. The All-American Pressure cooker is the favorite of home cooks and canners because of it's quality! Grab your All-American Pressure Canner HERE.
If you've got a budding canner…or even an experienced canner that needs an upgrade, this canning supplies kit has everything they'll need! This canning kit is superior to the cheaper plastic options. The funnel is stainless steel which will hold up better through all of the canning projects. Snag this canning supplies starter kit HERE.
This pastry whisk is how every loaf of bread starts in our home. It makes mixing the ingredients easily so all of the ingredients are evenly distributed. Grab your Danish Dough Whisk here.
This sourdough baking kit is perfect for the the beginning baker since it has everything you need to get started with sourdough! This kit includes: 2 Banneton Baskets, 2 cloths, 1 Scoring Lame, 1 Plastic Scraper, 4 Spare Blades, Scoring Lame Cover. Grab your sourdough baking kit here.
The Homex 8 tray dehydrator makes dehydrated jerky, fruit, vegetables, fruit leathers, and herbs effortlessly! Having a home dehydrator to process veggies and fruits from the garden is one of the easiest ways to save food, and welcome in any homesteader's kitchen! Grab your Homdox 8-tray dehydrator HERE.
A good quality bread loaf pan is needed in any kitchen for quick breads like sourdough pumpkin bread or yeasted breads like whole wheat sandwich bread. Include these loaf pans along with your favorite bread recipe. Grab these Amazon Basics loaf pans HERE.
These 100% cotton flour sack dish towels are perfect for covering bread while it rises. They can also be used as general cleaning cloths or any kitchen task! We personally use them to cover our big bread bowl, or our pizza crust during it's bench rest. This is a lovely practical gift. Get flour sack dish towels HERE.
This low sides lodge cast iron skillet is our go to for making pancakes! It can also be used in the oven, on the stove, on the grill, or over a campfire. It can be used to sear, sauté, bake, broil, or grill. Cast iron of any size or shape makes great gifts for homesteaders. Get your lodge cast iron griddle HERE.
The Royal Berkey System can be used on a countertop in your kitchen or office to transform bad-tasting tap water into delicious drinking water that's also ideal for making your favorite beverages or cooking. Snag your Berkley water filter HERE.
A flawless pairing of form and function that doesn't quit, the Lodge Dutch Oven is an enameled cast iron classic that's great for preparing and serving memorable meals. Perfect for sourdough bread baking! Grab a lodge enameled cast iron dutch oven HERE.
Crafted with High carbon stainless steel, this knife will last through the toughest kitchen jobs on the homestead. Having a good quality sharp knife makes cooking and processing more efficient. Good quality knives make great gifts for homesteaders. Get your Victorinox fibrous pro 7.5-inch chef's knife HERE.
A good bread knife is needed in every kitchen that has freshly baked bread coming out of the oven. This bread knife is perfect for your homemade loaves of bread! Get a Serrated Bread Knife HERE.
This has everything necessary to sharpen any type of edged or pointed tool in just a few minutes' time. This is the perfect knife sharpener for the beginner! Get your Spyderco Trim-Angle Sharpmaker HERE.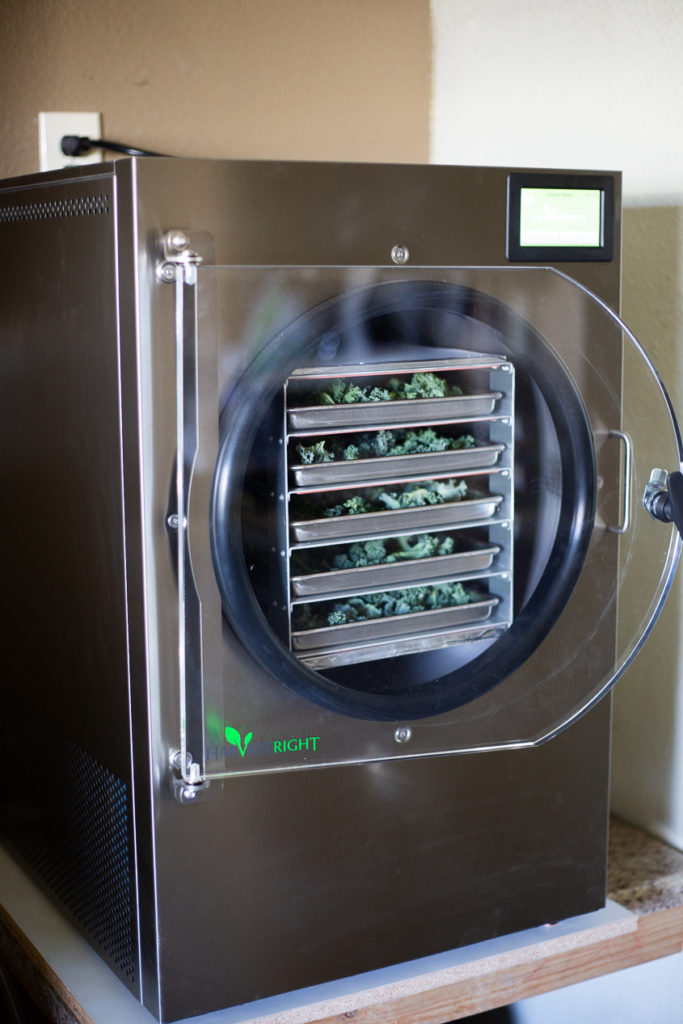 If someone in your life has shown interest in a freeze dryer, harvest right is the only way to go! We got one last Christmas, and it has made such a difference in food preservation on our homestead. This is a luxury gift for homesteaders. Check out what Harvest Right has to offer HERE.
Having a way to grind meat right on the homestead is a gift that will keep on giving. Especially if a person in your life likes to hunt or raise their own meat. Gift an electric meat grinder to the homesteader in your life. Grab one HERE.
From the host of the television series and podcast MeatEater, the definitive guide to cooking wild game, including fish and fowl, features more than 100 new recipes. The make great gifts for homesteaders or outdoorsmen. Grab your copy HERE.
A food processor may make a great gift for anyone but it especially makes an awesome gift for homesteaders! On big canning days, it is so helpful to have tools to make the process smoother. A food processor is a gift that will keep on giving. Grab a Ninja Food Processor HERE.
These wide mouth mold jars are made of thick, sturdy and durable glass that is heat resistant – safe for microwave and dishwasher use! Having the lid, gaskets and jar as separate pieces does make it easier for pouring and washing. The small glass clamp clip and lid with rubber gasket gives a great air-tight seal. Get your Weck Canning Jars HERE.
Hunting gifts for homesteaders
The Stealth Trail Camera captures high-quality pictures and HD videos with audio. It has 80 foot visibility, in the dark, yet won't spook nighttime game. This trail cam takes crisp images of moving subjects. This would make a great gift for the hunter, outdoorsman, or homesteader in your life! Get your Stealth Trail Camera HERE.
This is our go to headlamp for checking on the animals in the middle of the night! This rechargeable headlamp can be used for anything that needs to be done in the dark. It has a motion sensor on/off feature which makes turning it on in the dark simple. Grab your rechargeable headlamp HERE.
This skinning knife is the perfect hunting companion for faster, easier skinning and field dressing of any kind of wild game. It can also be used to process animals raised on the homestead. A great gift or stocking stuffer. Buy the Havalon Skinning Knife HERE.
These merino wool boot socks are some of Grey's favorites! This is one of those great practical gifts for homesetaders. Give a sock that is high quality and made to last! You can find these darn tough boot cushion socks HERE.
Survival gifts for homesteaders
This knife needs no introduction! It is one of those popular gifts for homesteaders for a reason. A compact tool that has almost anything you'll need for big and small tasks outdoors and indoors. A classic Swiss army knife makes a wonderful gift. You can find a great quality Swiss Army knife HERE.
Having a well stocked trauma kit is essential for hunting, hiking, camping, vehicle emergencies, and everyday preparedness. This pack is compact and well packaged. It has everything you would need and the quality is great! Get your IFAK trauma pak HERE.
This ultra-compact MicroStream USB features a tail cap switch, momentary or constant on operation, high and low beams, a combination pocket/hat clip for convenience, and amazing brightness and run time for a light of its size. All while fitting in the palm of your hand or comfortably in your pocket. Buy the streamlight pocket flashlight HERE.
This flameless design means you can start a fire in almost any weather condition! It reduces the chances of burns, and unintentionally starting a forest fire. The plasma electrodes produce a high temperature arc which ignites a fire in an instant! This is such a handy tool for homesteaders. Get your rechargeable flameless lighter HERE.
This solar phone charger power band will create the power you need from the sun quickly with. Four high-powered 5.5W solar panels fold open to charge the on-board, ultra-high capacity. Get a solar phone charger power bank HERE.
This knife is designed for everyday situations. A great gift for homesteaders! An all-around utility knife that is suitable for both indoor and outdoor work. It is ideal for camping, backpacking, fishing, hiking, and survival. Grab the Morakniv Elders Light Duty Stell Outdoor Knife HERE.
This is an outstanding little fixed blade knife! It is made from 1095 steel. It's small size makes it easy to carry for everyday use. Grab this knife HERE.
If you liked this gifts for homesteaders guide, check out:
Rosemary Parmesan Bread + Free Printable Gift Tag
How to Be More Self Sufficient
Ideas for What to Have on a Homestead
30 Ways to Lead a Homesteading Lifestyle
Pin it for Later!