This collection of 100 well curated homesteading quotes will inspire you to live an old fashioned way of life.
Quote Index
To help you find the homesteading quotes you are looking for, I've indexed this article into categories. Click the homesteading quote category you are looking for, to jump to that section.
Inspiring homesteading quotes
"Homesteading, at its core, is counter-cultural from our consumerist-driven culture. This is a lifestyle that glorifies salvaging and reclaiming, repairing rather than buying new, and trading and bartering when money is tight."
-Unknown
"The mundanity of those chores, the repetition, acts as a kind of meditation. I start each day with a series of numbers and questions written on a piece of paper, put them in my pocket and get on with the business of farming. By mid-morning the answers are clear."
-Hannah Rothschild
"Let the beauty we love be what you do."
-Rumi
"Everyone across America had the same idea at the same time. Chickens became the toilet paper of the spring."
-Melissa Gilbert
"Let yourself be silently drawn by the strange pull of what you really love. I twill not lead you astray."
-Rumi
"Don't judge each day by the harvest you reap but by the seeds that you plant."
-Robert Louis Stevenson
"I think having land and not ruining it is the most beautiful art that anybody could ever want to own."
-Andy Warhol
"Everyone has been made for some particular work, and the desire for that work has been put in every heart."
-Rumi
"For me, nearly all of our problems are solved with a recipe composed mostly of homesteading and permaculture."
-Paul Wheaton
"Agriculture for an honorable and high-minded man, is the best of all occupations and arts by which men procure the means of living."
-Xenophon
"In undertaking farming we undertake a responsibility covering the whole life cycle. We can break it or keep it whole."
-Lord Northbourne
Encouraging homesteading quotes
"Autumn brings the harvest. There's a race to gather the final fruits of the year's labor, and then to dry, preserve, and store them for winter. (Because most of us no longer homestead, this autumnal hoarding impulse often expresses itself as frenzied holiday shopping.)"
-Unknown
"Here in the country, on a little farm in southern Georgia, I am building a quiet life of resistance. I am a radical peasant, and every day I take out my little hammer, and I keep building."
-Janisse Ray
"You sow, you wait for good or bad weather, you harvest, but working is something you always need to do."
-Miguel Indurain
"Agriculture is always going to be a top priority, everybody's going to always need to eat and everybody's going to always need some help with that so as long as you're willing to put in the hours, there's a job there for you."
-Brady Blasher
I find my greatest happiness in thinking of those days in Homestead when I labored to bring a thing to perfection entirely by myself. In the evenings, I would go into the hills and look down on my work, and I knew that it was good, and my heart was elated.
-Charles M. Schwab
"Agriculture was the first occupation of man, and as it embraces the whole earth, it is the foundation of all other industries."
-E.W. Stewart
"Homesteading is: Being self-sufficient, living simply, getting back to our roots, breaking away from commercialism, growing your own food."
-Unknown
"Agriculture is the noblest of all alchemy; for it turns earth, and even manure, into gold, conferring upon its cultivator the additional reward of health."
-Paul Chatfield
Homesteading quotes about gardening
"Beauty surrounds us, but usually we need to be walking in a garden to know it."
-Rumi
"A garden is a grand teacher. It teaches patience and careful watchfulness; it teaches industry and thrift; above all it teaches entire trust."
-Gertrude Jekyll
"A garden returns 50x the investment you put into it. Not just food, but joy, peace and a real connection with creation. A spiritual retreat from a noisy world and hurried people. Grow a garden."
-Unknown
"Life begins the day you start a garden."
-Chinese Proverb
Gardening adds years to your life and life to your years.
-Unknown
"My garden is my most beautiful masterpiece."
-Claude Monet
"A society grows great when old men plant trees whose shade they know they shall never sit in."
-Greek Proverb
"A garden is always a series of losses set against a few triumphs, like life itself."
-May Sarton
"The glory of gardening: hands in the dirt, head in the sun, heart with nature. To nurture a garden is to feed not just the body, but the soul."
-Alfred Austin
A weed is a plant that has mastered every survival skill except for learning how to grow in rows.
-Doug Larson
At Christmas I no more desire a rose, Than wish a snow in May's new-fangled mirth; But like of each thing that in season grows.
-William Shakespeare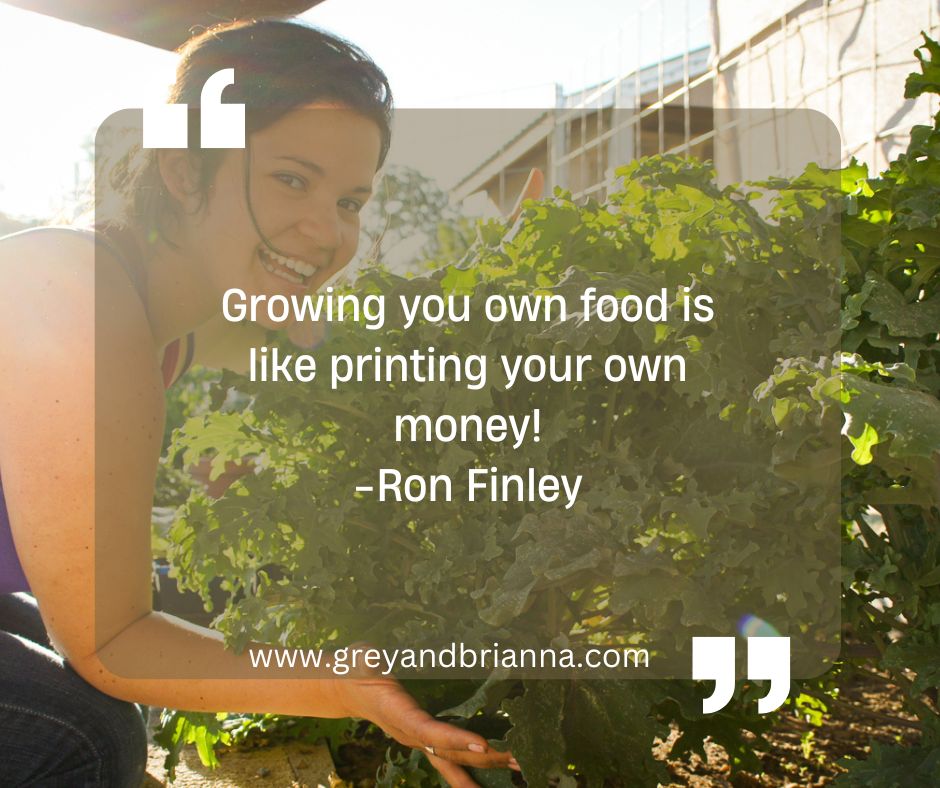 Growing you own food is like printing your own money!
– Ron Finley
Soil homesteading quotes
"The soil is the great connector of lives, the source and destination of all. It is the healer and restorer and resurrector, by which disease passes into health, age into youth, death into life. Without proper care for it we can have no community, because without proper care for it we can have no life."
-Wendell Barry
"A pig has a plow on the end of its nose because it does meaningful work with it. It is built to dig and create soil disturbance, something it can't do in a concentrated feeding environment. The omnivore has historically been a salvage operation for food scraps around the homestead."
-Joel Salatin
"From the moment that the first plow blade bit into the crust, the homesteaders began to destroy the foundations of their new life, and in a very few years the crust was gone–used up, scattered, blown away by the dry summer winds."
-Jonathan Raban
Homesteading quotes about children and homeschooling
"Even the tiniest of flowers can have the toughest roots."
-Shannon Mullen
"The best education does not happen at a desk, but rather engaged in everyday living – hands on exploring , in active relationship with life."
-Vince Gowmon
"Don't just tell your children about the world, show them."
-Penny Whitehouse
"There isn't a child who hasn't gone out into the brave new world who eventually doesn't return to the old homestead carrying a bundle of dirty clothes."
-Art Buchwald
"Children deserve to grow and learn in a place & alongside a force that is as wild and alive as they are."
-Nicolette Sowder
"Tell me and I'll forget. Teach me and I'll remember. Involve me and I'll learn."
-Benjamin Franklin
Homesteading quotes about cooking from scratch
"Simple ingredients prepared in a simple way – that's the best way to take your everyday cooking to a higher level."
-Jose Andres
"You learn to cook so that you don't have to be a slave to recipes. You get what's in season and you know what to do with it."
-Julia Child
"Cooking demands attention, patience, and above all, a respect for the gifts of the earth. It is a form of worship, a way of giving thanks."
-Judith B. Jones
Cooking [from scratch] is "the single most important thing we could do as a family to improve our health and general well-being."
-Michael Pollan
"Just because food is served fast doesn't mean it has to be made with cheap raw ingredients, highly processed with preservatives and fillers and stabilizers and artificial colors and flavors."
-Steve Ells
Your diet is a bank account, good food choice are good investments.
-Unknown
"Raw ingredients trump recipes every time; farmers and ranchers who coax the best from the earth can make any of us appear to be a great cook."
-Judy Rodgers
Homesteading quotes about preserving food
"The revelation to produce and store food may be as essential to our temporal welfare today as boarding the ark was to the people in the days of Noah."
-Ezra Taft Benson
"We want you to be ready with a personal storehouse filled with at least a year's supply. You don't argue why it cannot be done; you just plan to organize and get it done."
-Spencer W. Kimball
Preserve and treat food as you would your body, remembering that in time food will be your body.
-B.W. Richardson
The jelly – the jam and the marmalade,
And the cherry-and quince-'preserves' she made!
And the sweet-sour pickles of peach and pear,
With cinnamon in 'em, and all things rare!
And the more we ate was the more to spare,
Out to old Aunt Mary's! Ah!
-James Whitcomb Riley
Homesteading quotes about simplicity
I was a fool to sacrifice the power of living in securing the means of a life."
-William J Dawson
"Our life is frittered away by detail — simplify, simplify."
-Henry David Thoreau
"I make myself rich by making my wants few."
-Henry David Thoreau
"Simplicity in its essence demands neither a vow of poverty nor a life of rural homesteading. As an ethic of self-conscious material moderation, it can be practiced in cities and suburbs, townhouses and condominiums. It requires neither a log cabin nor a hairshirt but a deliberate ordering of priorities so as to distinguish between the necessary and superfluous, useful and wasteful, beautiful and vulgar."
-David Shi
"I like people who get excited about the change of seasons, the sound of the ocean, watching the sunset, the smell of rain and starry nights."
-Brooke Hampton
Sustainability homesteading quotes
"Use it up, wear it out, make it do, or do without."
-New England Proverb
"Cutting food waste is a delicious way of saving money, helping to feed the world and protect the planet"
-Tristram Stuart
"Food waste isn't considered a problem because, for the most part, it isn't considered at all. It's easy to ignore because it's both common and customary. I have yet to meet someone who is pro-food waste, but many aren't convinced that it's important"
-Jonathan Bloom
"Refuse what you do not need; reduce what you do need; reuse what you consume; recycle what you cannot refuse, reduce, or reuse; and rot (compost) the rest."
-Bea Johnson
"We have to cultivate contentment with what we have. We really don't need much. When you know this, the mind settles down. Cultivate generosity. Delight in giving. Learn to live lightly. In this way, we can begin to transform what is negative into what is positive. This is how we start to grow up."
-Jetsunma Tenzin Palmo
Homesteading quotes about nature
"Adopt the pace of nature; her secret is patience."
-Ralph Waldo Emerson
"I went to the woods because I wanted to live deliberately…and not, when I came to die, discover that I had not lived."
-Henry David Thoreau
"Live gently upon this earth."
-Unknown
"Study nature, love nature, stay close to nature. It will never fail you."
-Frank Lloyd Wright
"There is something infinitely healing in the repeated refrains of nature- the assurance that dawn comes after night and spring after winter."
-Rachel Carson
Spiritual homesteading quotes
God Almighty first planted a garden. And indeed, it is the purest of human pleasures.
-Francis Bacon
"And yes, the Homesteaders, including my grandparents who left behind almost nothing, and arrived in Montana with nothing but the clothes on their back, high hopes, faith in God and dreaming of the future."
-Brian Schweitzer
"He did good and gave us rain from heaven, and fruitful seasons, filling our hearts with food and gladness."
-Acts 14:17
"And sow the fields, and plant vineyards, which may yield fruits of increase."
-Psalm 107:37
"A world without a Sabbath would be like a man without a smile, like summer without flowers, and like a homestead without a garden. It is the most joyous day of the week."
-Henry Ward Beecher
"He that gathereth in summer is a wise son: but he that sleepeth in harvest is a son that causeth shame."
-Proverbs 10:5
"I made me gardens and orchards, and I planted trees in them of all kind of fruits."
-Ecclesiastes 2:5
"To forget how to dig the earth and to tend the soil is to forget ourselves."
-Mahatma Gandhi
"There are two spiritual dangers in not owning a farm. One is the danger of supposing that breakfast comes from the grocery, and the other that heat comes from the furnace."
-Aldo Leopold
Historical homesteading quotes
"Our deep respect for the land and its harvest is the legacy of generations of farmers who put food on our tables, preserved our landscape, and inspired us with a powerful work ethic."
-James H. Douglas
"Agricultural growth is a proven driver of poverty reduction. When agriculture stimulates growth…the growth is twice as effective in reducing poverty as growth based in other sectors."
-Giza Mdoe
"No race can prosper until it learns there is as much dignity in tilling a field as in writing a poem."
-Booker T. Washington
"Let us not forget that the cultivation of the earth is the most important labor of man. When tillage begins, other arts follow. The farmers, therefore, are the founders of human civilization."
-Daniel Webster
"For well-being and health, again, the homestead should be airy in summer, and sunny in winter. A homestead possessing these qualities would be longer than it is deep; and its main front would face the south."
-Aristotle
"The fact that we heated most of the old farmhouse with nothing but a woodstove was a source of great pride for my father and endless inspiration for witticisms like, "Chop your own wood it'll warm you twice!"
-Mike Rowe
"As a young girl, I saw commitment in my grandmother, who helped Grandpa homestead our farm on the Kansas prairie. Somehow they outlasted the Dust Bowl, the Depression, and the tornadoes that terrorize the Great Plains."
-Sheri L. Dew
"I think the Internet is comparable to the Homestead Act: Here's a parcel of land. Sign up, cultivate it, it's yours."
-Dan Abrams
Presidential Homesteading Quotes
"The small landholders are the most precious part of a state."
-Thomas Jefferson
"The homestead policy was established only after long and earnest resistance; experience proves its wisdom. The lands in the hands of industrious settlers, whose labor creates wealth and contributes to the public resources, are worth more to the United States than if they had been reserved as a solitude for future purchasers."
-Andrew Johnson
"The newcomers quickly learned their way about and soon felt at home. The Homestead Act of 1862 provided them, as well as many other pioneers, with an opportunity to acquire land and establish family farms. To the land-hungry immigrants, the tough prairie sod seemed a golden opportunity and they conquered it by hard work."
-Harry S. Truman
"In 1862, Abraham Lincoln signed the Homestead Act, a bill opening one half million square miles of territory in the western United States for settlement."
-Peter Agre
"I would rather be on my farm than be emperor of the world."
-George Washington
"Agriculture is our wisest pursuit because it will in the end contribute most to real wealth, good morals, and happiness."
-Thomas Jefferson
"I think it worthy of consideration, and that the wild lands of the country should be distributed so that every man should have the means and opportunity of benefitting his condition."
-Abraham Lincoln
"The greatest fine art of the future will be the making of a comfortable living from a small piece of land."
-Abraham Lincoln
Literary homesteading quotes
"Pa did not like a country so old and worn out that the hunting was poor. He wanted to go west. For two years he had wanted to go west and take a homestead, but Ma did not want to leave the settled country."
-Laura Ingalls Wilder
"We had no choice. Sadness was a dangerous as panthers and bears. the wilderness needs your whole attention."
-Laura Ingalls Wilder
"The real things haven't changed. It is still best to be honest and truthful; to make the most of what we have; to be happy with simple pleasures; and have courage when things go wrong."
-Laura Ingalls Wilder
This fair homestead has fallen to us, and how little have we done to improve it, how little have we cleared and hedged and ditched! We are too inclined to go hence to a "better land," without lifting a finger, as our farmers are moving to the Ohio soil; but would it not be more heroic and faithful to till and redeem this New England soil of the world?
-Henry David Thoreau
"The price of anything is the amount of life you exchange for it."
-Henry David Thoreau
A farmer travelling with his load Picked up a horseshoe on the road, And nailed if fast to his barn door, That luck might down upon him pour; That every blessing known in life Might crown his homestead and his wife, And never any kind of harm Descend upon his growing farm.
-James Thomas Fields
"Wealth is the ability to fully experience life."
-Henry David Thoreau
"The first farmer was the first man, and all historic nobility rests on possession and use of land."
-Ralph Waldo Emerson
Do you know of any homesteading quotes you'd like to share? Leave them in the comments below!
You May Also Like:
Homesteading for Beginners (What you Actually Need to Know)
Homeschooling for homesteaders
How to Be more Self-Sufficient
How to Stay Motivated Homesteading
Pin it for later!