Having a simple dining room homeschool setup, with only the essentials, will make daily lessons seamless and easy!
This post contains affiliate links which means I make a small commission at no extra cost to you. See my full disclosure here.
As a homeschooling parent, I know how important it is to have an organized and functional homeschool setup. In this article, I will share with you the details of my simple yet effective homeschool setup that has served my family well.
From our homeschool cabinet, chalkboard, our children's individual drawers, and my teacher's drawer, I will walk you through each aspect of our little space! By the end of this article, you will have a clear understanding of how to create a practical and organized homeschool space that will help you and your children thrive.
Key Takeaways
A simple and functional homeschool setup can be created with just a few key elements, such as a cabinet, chalkboard, and individual drawers for each child.
Organizing and decluttering your homeschool space regularly can help you stay on top of your homeschooling goals and reduce stress.
Personalizing your homeschool setup with decor and ambiance can make it a more enjoyable and inviting space for both you and your children.
Homeschooling in a Small House
We have always lived in a small house…in fact this 1300 sq. ft. 3/2 is the largest house we've lived in. We never let our small living space limit us. Check out some of our tips for living in a tiny house with 3 small kids! If you are short on space homeschooling is still possible for you, even with all of the books and curriculum that come along. Keeping things simple will enable you to have the homeschool experience you've always wanted.
Homeschool Setup Overview
I have been homeschooling my children for six years, and we have always used our dining room table as our classroom. Next to our table, I have a small cabinet that serves as our homeschool cabinet. This year, I decided to upgrade our setup a bit by adding a large calendar chalkboard and a regular chalkboard to display what's coming up for the kids and to write down to-do lists, checklists, and scriptures.
To keep our homeschool cabinet organized, I have individual drawers for each of my three school aged children and one for myself. These drawers contain only the bare minimum we need for our daily go-to's, such as math, language arts, reading, and handwriting materials. I also have a drawer for quick reach books, which includes our current read-aloud book, children's Bible, and catechism book.
Each child has their own pencil case, which gives them a sense of responsibility and ensures that we always have enough writing utensils. I prefer to keep their bags separate to avoid any confusion.
Overall, this setup works well for us, and I hope it can bring some simplicity to your homeschooling as well!
Cabinet and Chalkboard Setup
Calendar Chalkboard
I recently purchased a large calendar chalkboard to display what's coming up for the kids. It's 36×24 and will be used for fun field trip activities and to teach my kindergartner the days of the week and the month. This will be a helpful visual aid for the kids, and it's nice to have it in a central location in our home.
General Chalkboard
In addition to the calendar chalkboard, I also bought a regular chalkboard to use for to-do lists, general concepts, and copy work. This will definitely come in handy for our homeschooling activities.
I enlisted the help of my husband to hang both chalkboards, and he did a great job marking everything off! The large chalkboard is 36×24 as well, and my plan is to use it for various activities, including teaching general concepts and doing copy work.
Overall, the chalkboards are a great addition to our homeschool setup, and they will serve us well.
Cabinet Organization
Emptying and Sorting
As a homeschooling family, we use a small cabinet located next to our dining room table to store our supplies. This summer, however, the cabinet became disorganized and filled with items that did not belong there! Can you relate?! To address this issue, I emptied all of the drawers and sorted the items into piles. This allowed me to identify what was necessary for our homeschooling needs and what was not. By the end of the process, I was able to remove about half of the items that were cluttering our cabinet.
Organizing and Cleaning
Once I had sorted through all of the items, I began the process of organizing and cleaning the cabinet. I threw away any garbage and placed the items that we no longer needed in a separate pile for donation or disposal. I then put the drawers back in place and organized the remaining items. For my children's individual drawers, I kept only the bare minimum of daily essentials such as math, language arts, and reading materials.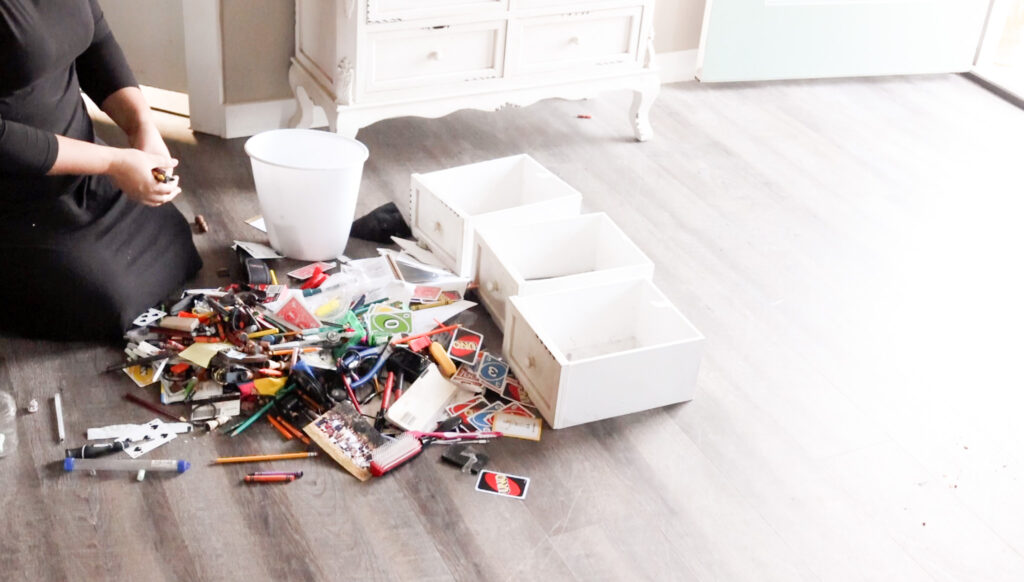 Drawer Assignment
Each of my three school aged children has their own individual drawer, while I have a separate drawer for my teacher supplies. I also reserved a drawer for quick access to books that we are currently reading. In addition, each child has their own pencil case to keep their writing utensils organized and accessible.
Overall, our cabinet organization process was simple yet effective. By keeping only the essentials and maintaining a clean and organized space, we are able to focus on our homeschooling without distractions.
Teacher's Drawer
In addition to my children's individual drawers, I also have one! My teacher drawer includes:
Lesson plans
Planner
Writing utensils
Stickers
and current materials I am using to teach!
Decor and Ambiance
I recently decided to upgrade our homeschool setup and make it a bit more visually appealing and organized. We previously had an antique mirror hanging over the space. This year, I wanted to do something different and fresh, especially since my kids are getting older.
After my husband hung the large chalkboard.and chalkboard calendar I got to decorating! I started by hanging this cute book page banner from etsy. Then I added some warm fairy lights. Next to the cabinet I hung a 2- sided reversible USA map for our current geography study. On top of the dresser I put a beautiful world globe and a bowl of seasonal fruit to keep them energized. I used these chalkboard pens to fill our the calendar.
Overall, our upgraded homeschool setup is not much different, but it is definitely an upgrade from what we had before. It gives me a little bit of space to spread out, and I hope that it brings some simplicity into your homeschooling as well.
Final Homeschool Setup
As a homeschooling family, my husband and I have always kept things simple. We don't have a designated homeschool room, instead we use our dining room table for our daily lessons. This has worked great! You don't need to spend a lot to achieve a functional homeschool space…that's also cute!
I hope that this section has been helpful in giving you some ideas for simplifying your own homeschool setup.
Homeschool Wall Decor:
Extra Fine Tip Liquid Chalkboard Markers
Related Articles:
Pumpkin Harvest, Homeschooling, Menu Planning: Homestead Mom DITL
Family of 5 Living in 800 sq. ft.
Homeschooling for Homesteaders
Chores for Homestead Kids by Age
30 Ways to Lead a Slow Living Lifestyle
Pin it for Later!