Mix up your dinner rotation with a Hungarian lamb goulash. This sweet and savory dish is delicious on mashed or roasted potatoes or rice.
This post contains affiliate links which means I make a small commission at no extra cost to you. See my full disclosure here.
Our Fall garden is almost ready for planting! The transition from the Summer to the Fall garden can be quite the process since it is also the beginning of our homeschool year. We have pulled everything from the summer garden out, and amended the beds. We only need to mulch, and water everything in before the garden is ready for planting. What a milestone! During especially busy times on the homestead, I like to make simple meals that use seasonal ingredients.
Eating from the vegetables that are currently on our homestead has changed how we meal plan. I like to start with what we currently have in our pantry, what is coming in from the garden, and what needs to be used up. Then I plan the meal around that. Simple meals like cottage pie, soup, stews, and seasonal pasta dishes re all mainstays in our home because they can be changed up with the season and require few ingredients.
We enjoy lamb goulash because we raise lamb, so always have an abundance of it, it uses seasonal vegetables, and it tastes delicious! It is hearty and is wonderful during late Summer or the beginning of Fall. We mostly serve lamb goulash over mashed or roasted potatoes, but you can use rice or even pasta! If you've never tried or even heard of lamb goulash, you might be wondering: "what is lamb goulash?"
What is lamb goulash?
Goulash is a dish that originated in Hungary. It can be made with beef, lamb, or pork and vegetables. It is seasoned with a hearty amount of paprika. The consistency of goulash should be similar to a thick stew and served over a starch like potato or rice.
Tools you'll need to make lamb goulash
Ingredients you'll need to make lamb goulash
1 tablespoon olive oil
2 tablespoons butter
1 lb. lamb steaks or chops, cut into one inch cubes
1 large onion, finely chopped
4 cloves garlic, minced
2 red bell peppers, chopped
1 tablespoon all purpose flour
1 tablespoon tomato paste
1 cup red wine
1 cup chopped tomatoes
1 cup beef stock
1 tablespoon paprika
½ teaspoon freshly ground black pepper
1 teaspoon salt
2 teaspoons sugar
chopped parsley (for garnish)
sour cream (for garnish)
How to Make lamb goulash
Season the lamb with salt and pepper.
Add olive oil and butter, in a Dutch oven or a heavy-based pan over medium-high heat and brown the lamb pieces. Do it in batches to avoid overcrowding.
Remove the lamb from he dutch oven and set aside.
Deglaze the pot with wine, scraping the brown bits from the bottom of the pan. Once the wine has cooked down for about 3 minutes, pour the wine over the set aside meat.
Add the onions to the Ditch oven, and sauté for a few minutes, until slightly softened and then add the peppers.
Sauté the peppers for a few minutes and then add the garlic, sauté for another minute, stirring continuously.
Stir in the tomato paste and flour.
Add the chopped tomatoes, beef stock, paprika, freshly ground black pepper, salt, and sugar.
Bring the pan to a boil, reduce the heat to low-medium, cover and gently simmer for 1 hour and 45 minutes, or until the lamb is tender and falling apart when touching with a fork. Stir the pan every 15 minutes or so while cooking. 
Taste the seasoning and add some more salt if needed and serve on a bed of rice or mashed potatoes.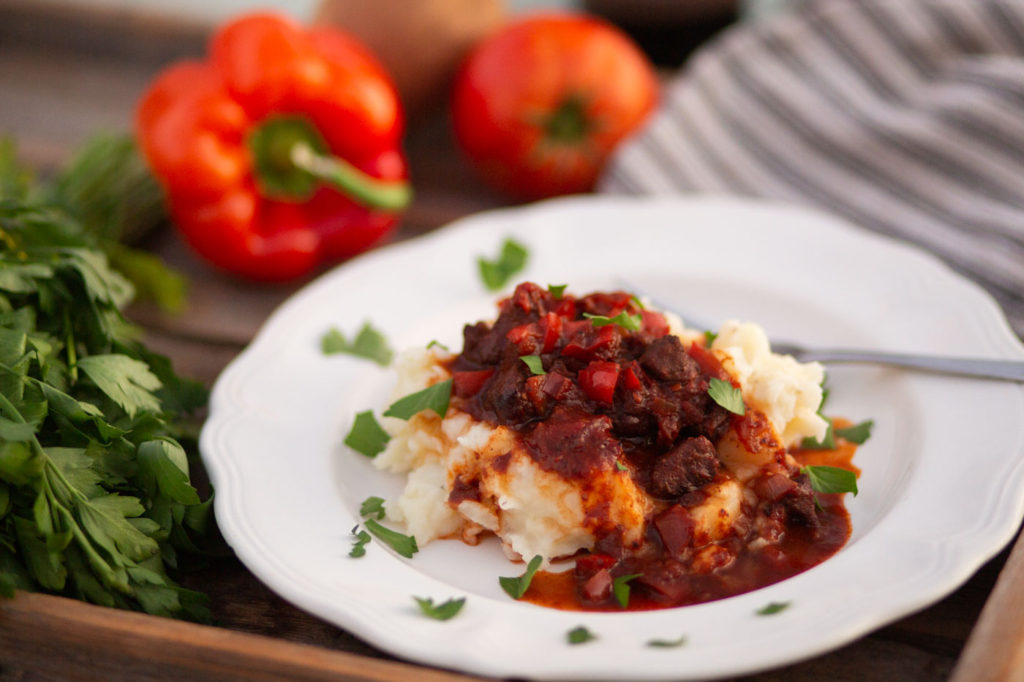 Lamb goulash tips
Use a dutch oven-though you can use a large pot for this recipe, a dutch oven heats the meat and vegetables evenly and is perfect for a low long simmer.
Don't rush-though this meal does come together quickly, it is important to follow all the steps, like browning the meat, removing it then deglazing the pan, then removing that and so on. Once its assembled it needs to simmer low and slow for 1 hour and 45 minutes.
Use a good quality beef broth-good beef broth makes a difference in most recipes, but especially this one.
Add the tomato paste during the sautéing process, instead of when there is a lot of broth. This adds a deep Unami flavor that makes this dish so savory.
Garnish with sour cream and finely chopped parsley.
Finely chop the vegetables-this dish is better when there are smaller chunks of vegetables and lamb rather than large chunks of vegetables.
Commonly asked questions 
What's the difference between goulash and stew?
Goulash is similar to stew but there are a few differences set it apart. First stew is savory with chunks of slow cooked meat, and root vegetables. Goulash is typically a meat, vegetables, and plenty of spices like cumin, paprika, and/or caraway. Another key difference is the way that these two dishes are served, stew is typically served with a side of bread or biscuit. Goulash is served over a starch.
What side dishes go well with lamb goulash?
Lamb goulash can be served all on its own. Outside of serving the goulash over rice, pasta, or potatoes, you can also serve a vegetable on the side too. Some vegetables that go well with goulash are roasted Brussels sprouts or cauliflower.
Can I cook lamb goulash in the slow cooker?
Yes, lamb goulash can be cooked in the slow cooker. It would be best to brown the meat in a separate pan before adding to the slow cooker to enhance the flavors of the meat.
Can I cook lamb goulash in the instant pot?
Yes, lamb goulash can be cooked in the instant pot. Cook the meat on the sauce mode first before turning to slow cook or pressure cook.
[Create card]
You May Also Be Interested in:
Mashed Potatoes with Garlic and Kale
Warm Brussels Sprouts Salad with Walnuts and Raisins
Pin it For Later!