Learn why a freezer is essential on the homestead. Every productive home should have plenty of freezer space to boost productivity and preparedness.
Many money saving gurus boast the perks of owning and utilizing a freezer. A freezer is equally beneficial for the homesteader. Back in 2010 at the beginning of our homesteading journey, we owned practically nothing, including a freezer.
Thankfully most of our homesteading experiments was in the garden which turned out to be pretty forgiving for not having a freezer. Once we stepped into raising our own meat, a freezer was absolutely necessary. We lean more on our freezer even for the garden produce now that we have it. I tend to make more freezer meals which have helped in the efficiency of running the household as well.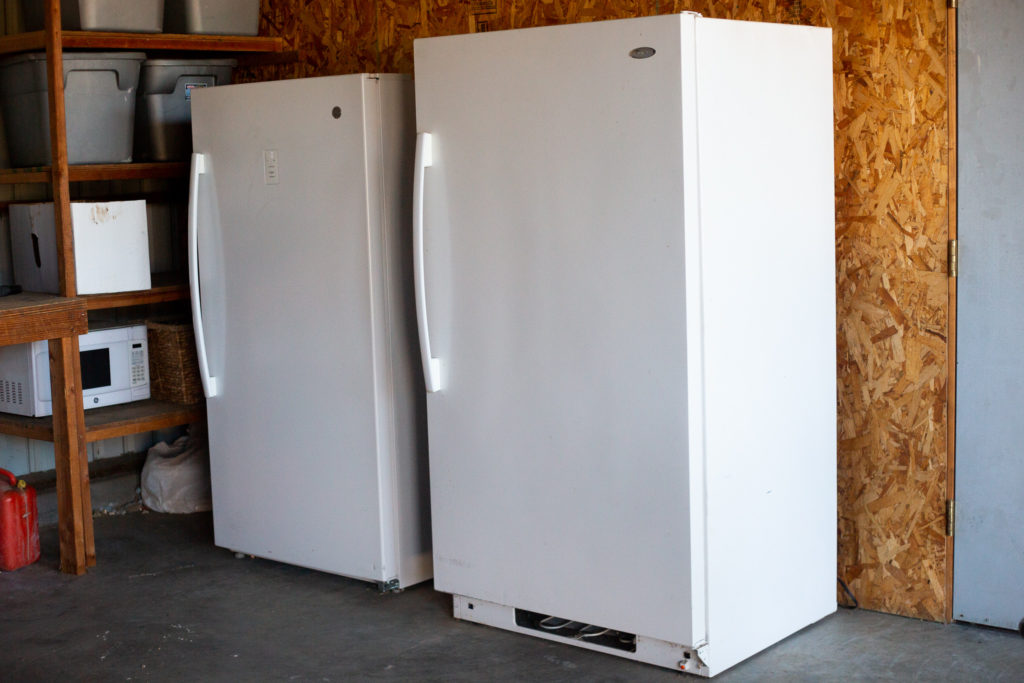 Why a Freezer is Essential on the Homestead
Preserve the Harvest
Whether you are preserving a glut of broccoli, kale, potatoes, meat, or even eggs a freezer is quite handy to preserve the harvest. It would be wonderful for climate to permit having the garden bursting at the seams year-round, but that is not the reality for most homesteaders. Even for us in zone 9. We grow an abundance of one thing, to then spend a little time processing for storage. Here are some of the ways we utilize the freezer to preserve the harvest here on our homestead:
Blanch and flash freeze vegetables
Prepare food for the freeze dryer
Make meals ahead of time and freeze them for later
Store home-butchered meat
Freeze grains to prepare them for long term storage (there are insect eggs in most grains and flour)
Buy bulk items when it's on sale and freeze
Boost preparedness
There is no wonder that preppers and most homesteaders own a freezer. Though they are not the most effective food storage system for long term power outages, they allow much more flexibility in food storage systems. They also allow a household to go longer between grocery shopping trips. If a natural disaster were to strike, there would be no need to brave the masses getting to get groceries.
Cost Savings
Some of the ways that our household saves money, is to know when to buy certain items and stock up. Butter for example tends to be cheaper during the holidays. This is the perfect time to grab some extra butter and add it to the freezer stash. Being able to get produce from the farmer's market at a good price, or meat when it is on sale are just some great ideas to utilize the freezer to maximize savings. Another component in the cost savings category is limiting trips to town, which add up in fuel and vehicle wear-and-tear over time.
Increase household productivity
Going to the store less often naturally saves money, but it also increases household productivity. Running to the grocery store every week can take away from what can be accomplished on the homestead. We went down to shopping once a month and it saves countless hours in meal planning, prep, and grocery store time.
Another way that a freezer can help with household productivity is by allowing the cook of the household to pre-make meals and put them in the freezer for later. We have some go to freezer meals that are so nice to have ready when we come home from a long trip, we are out and about, or on those nights when I don't feel like cooking.
The Cons of Keeping a Freezer
Though the pros of having a freezer outweigh the bad, it is worth mentioning the cons of keeping a freezer running.
Space
Freezers, especially chest freezers take up a good amount of square footage. When you live in a small home or have limited storage space, this can pose a problem. We view the space in our shop, and home, as prime real estate since we have paid for the space. Having anything that is not pulling its weight just can't stay. If you have limited square footage, consider an upright freezer.
Energy Usage
Though the upright freezers are convenient to save space, and they are much easier to organize, they are not the most energy efficient. Energy usage of a freezer is a potential downside if you are fully connected to the grid and concerned about the cost.
Cost
Freezers do cost money! Depending on the type you buy this appliance is an investment. I do believe they pay themselves off very quickly if you are implementing good household management techniques. Outside of the cost of the actual freezer they cost to run in electricity.
Power Outages
Losing electricity is stressful enough because there are so many conveniences, we enjoy in modern day life. When the food of one, two, or three freezers is at stake it is that much more of an inconvenience. Having a generator handy is wise if you choose to own a freezer. Also, ice chests can save a good amount of food, depending on how long your outage is.
Types of Freezers that are essential on the homestead
Though there is a wide variety of freezers on the market like portable freezers, display freezers, etc.; the two main kind that come to mind are: chest freezers and upright freezers. Most homesteads will have one or both of these types of freezers.
Chest Freezers
Chest freezers are the most energy efficient and cheapest to run, typically. This is because all of the cold air is not lost once the freezer door is open. They are more difficult to keep organized, than an upright. If you are using a chest freezer for only meat, it can be layered in a way to avoid taking everything out that is on the top to get to the items on the bottom of the chest freezer.
Upright Freezers
These are the freezers that look like a typical refrigerator. Upright freezers are usually more expensive than a chest freezer, but definitely has perks that are worth the money. When we lived in our 800sq ft tiny house, space was a big concern, so the square footage gained by purchasing an upright definitely was a selling point. I also enjoy the organizational components of an upright freezer. It is so much easier to see what is stored. We personally own two upright freezers because I find it is easier to have a pantry rotating system with this type of freezer. I only personally prefer a chest freezer for meat.
If you liked a freezer is essential on the homestead, You May Enjoy:
How to Get Started Canning for Beginners
How to Stay Motivated on the Homestead
Ideas for What to Have on a Homestead | Homestead Planning
What to do When Sheep Give Birth
Fed up with the fast paced modern world, Grey & Brianna made drastic changes to live slowly and intentionally. Read more about their unlikely story back to calm. If you want to send Grey & Brianna a quick message, then visit their contact page.
Pin it for Later!
A freezer is essential on the homestead